Best Diwali Decoration Ideas
Lighting diyas, making rangoli designs, putting up lanterns are some of the many ways of setting the celebratory aura. To make sure you don't fall short of ideas this season, we have curated a list of ways of decorating your home this Diwali. You can always mix two or three ideas together and come up with something completely unique. So, take your pick and start decorating!
We all do those every year and we'll find hundreds of images on Google for designs. This post is for you if you are looking for something 'different', a wow factor. Something that will catch your eye and make you say, 'Hey… Nice!' Inspiration for ideas can come from anywhere. For example, you could use a gorgeous arrangement at a church wedding in a traditional Indian one by changing the colors from white to red.
Here are some ideas I found inspiring and would love to try out in my home. I obviously can't do them all together… maybe 1 new one every year?
Start with the basics and spruce up your space with a collection of earthen Diyas. Now, you can always arrange these in unique patterns before lightening them up. Also, electric diyas are a good substitute if you are living in a breezy environment. Variety of sizes are available in the market and can be used to create intricate and interesting designs.
This looks especially pretty with sheer fabric. Hang strings of light behind your sheer curtains and watch your room transform into a fairy land.
What if you don't have sheer curtains? Then this is what I would do. Pull your solid curtains to the sides and hook them loosely like done in this picture below. Then take any kind of sheer fabric you have, like a dupattaor a sari. It could either match your curtains or be a striking contrast to them. Hang the sheer fabric from the curtain rod above, behind your hooked solid curtains. Hang strings of light behind the dupatta.
No Diwali decoration is complete without a touch of the Rangoli. You can either use vibrant colours or a bunch of flowers to create various patterns. If you feel that intricate patterns are not your thing, then patterned sieves are available in the market, which make the process way easier.
These lanterns are easy to make and can be made by kids. Pull out your old card sheets &  make lantern in different shapes, as shown below. Trust, kids would love to do this & help you in home decoration.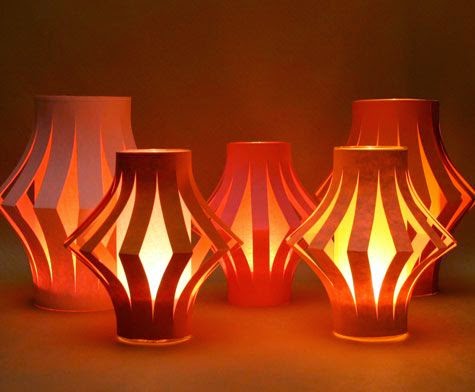 Once Diwali shopping is done, you are left with a bunch of paper bags that you are not sure what to do with. There is an idea of recycling them and preparing beautiful lights for your home decor.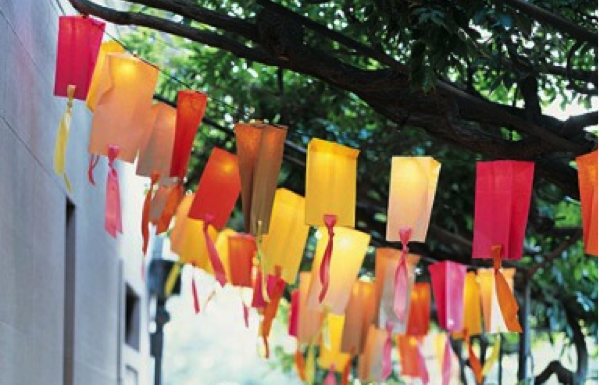 While, a variety of flowers are available in the market, it is the marigold flower that signifies this occasion. You can either pick fresh ones from the market or use the artificial ones, both tend to do justice to the decor. These can be used to enhance your rangoli decor, or can be hanged along with door and window curtains or can just be plucked and put in water, giving a floating effect.
These lights give a beautiful and a elaborate touch to your decor. Easily available in the market, these balloon lights are simple to make as well. Moreover, you can continue to hang them even once the festive season is over.